Here at Repeat we've been saying for a while that the DTC channel for CPG brands is transitioning from a growth channel into a loyalty and retention channel. What do we mean by that?
Well… the playbook for DTC growth had been, and to some extent still is, predicated on paid acquisition through social channels. The problem is that those channels are more expensive than ever and harder to attribute. Growth through acquisition is difficult and expensive.
Those changing macro-economic conditions have more people focused on retention than ever, but is BFCM now a retention play?
Here's what we saw this BFCM across all our CPG brands.
The TLDR of BFCM in 2022
Returning customers made the weekend a success for most brands.

Before we jump into why we think this, let's look at the data.
The breakdown of dollars spent on CPG during BFCM

We will get into how BFCM has changed over time for CPG brands in a second, but first let's take a look at what the share of revenue looked like across returning and new orders and returning and new subscription orders.

New customer acquisition was only 37.5% of revenue
Yep that's right! The dollars coming in from customers who have never bought from you before is lower than those who have bought from you in the past. The steep discounts and offers are more effective at getting your existing book of customers to buy again than they are at attracting customers to give your brand a try.
The difference between new and returning is even more stark when we include subscription as a returning customer stream.
You could argue that the success of BFCM for CPG brands is built in the 361 days prior to the holiday weekend. Building a book of existing customers and leads that you encourage to trial your product makes it easier to convince them to return and buy again.

Subscription is an extreme advantage for CPG at 14.5% of revenue
14.5% of all revenue that we saw across our brands would have happened on any other regular old weekend as well.
In the case of BFCM weekend, these customers likely have some of the best margins when compared to the offers that are being used for non-subscription customers.

Note though that 44% of revenue came from customers that are returning but not on subscription.


Returning customers made the weekend for CPG brands at 44% of revenue
When you look at the revenue breakdown for the last 3 years it actually shouldn't surprise us that returning customers are what drives the success of BFCM for CPG brands. It's been like that for a few years now.
With traditional acquisition channels becoming more expensive many brands rely on their owned channels to drive awareness for offers and create the desire to buy.
One of my hypotheses is that the majority of the new customer revenue actually was brought in via email and sms lists that were captured earlier in the year and BFCM as a marketable moment was used to convert them. We're going to dig into this data in more detail as the week progresses so maybe I'll have a concrete answer to that hypothesis soon.
Regardless, customers who have already bought from you are contributing more revenue to your brand than the new ones you attracted with your offer.

2022's BFCM compared to years past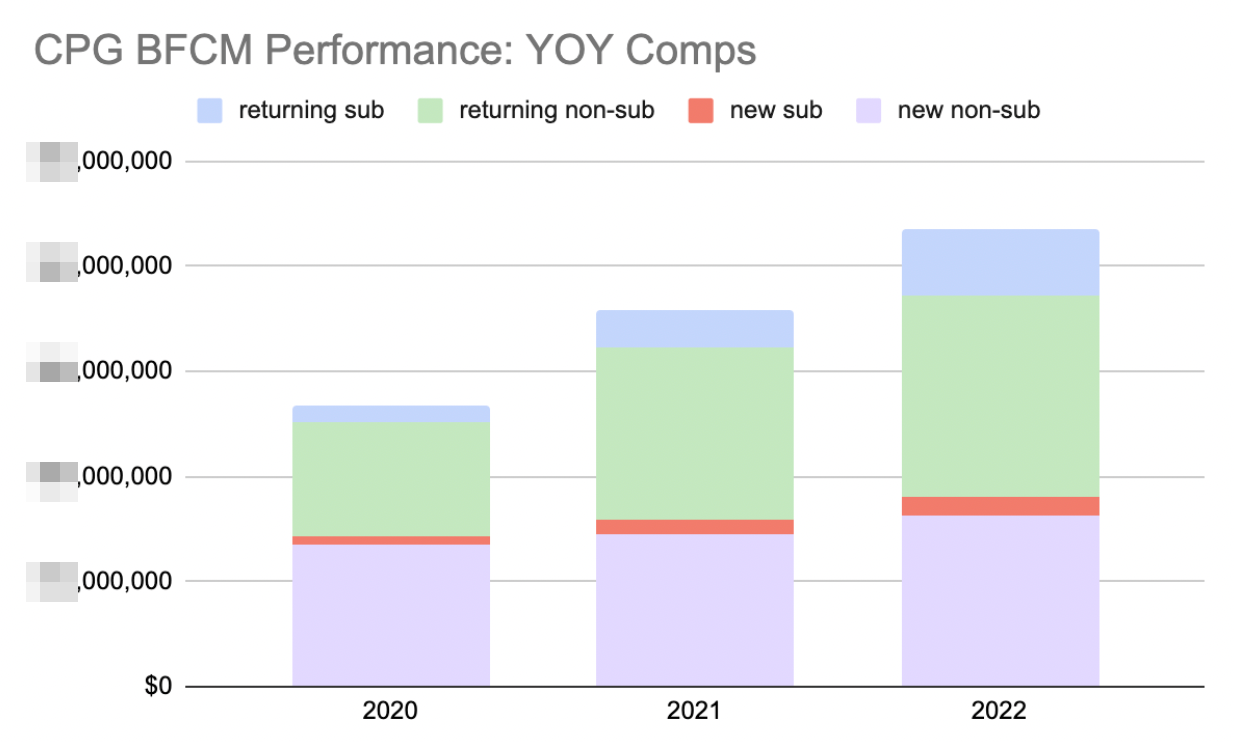 Overall despite some calling for a terrible BFCM, we did see a more fruitful holiday weekend than in years past. What's interesting though is how the revenue breakdowns have been trending over the past few years.

Have we hit a ceiling on new customer acquisition?
For three years in a row new customer acquisition revenue has more or less stayed flat. YoY growth from 2020 to 2021 was 7% and then from 21 to 22 was 12%. The makeup that new customer acquisition is responsible for each year more or less stays the same.
The additional gains each year are being propelled by returning customers.

Are we becoming more effective retention marketers?
The composition of BFCM sales each year is changing in favor of returning customers and existing subscribers, but why? It's almost impossible for us to answer that with any certainty but here's my hypothesis.
More focus on retention throughout the year leads to a better BFCM for CPG brands.
Over the past few years DTC marketers have had to shift more and more of their focus and marketing budgets to retention. Getting an existing customer to return and an established customer to subscribe. Mission accomplished?
It appears that we as an industry are becoming better at retention marketing. A customer that has already returned to order more than once throughout the year is much easier to convince to buy again over the holiday than a first time one who has never trialed your product.
I personally believe that more attention on retention built up stronger customers throughout the year that all came to convert on a very marketable moment for DTC brands.
If you knew that more than half of your customers that bought over BFCM were returning ones, would you change your offer? Avoid discounting all together?
The best days for CPG during BFCM
I've always been curious if Black Friday has just completely overpowered Cyber Monday. It seems as though it really is a full weekend event at this point and for some brands a full week event. But what was the spending breakdown across the weekend?

Cyber Monday doesn't have the pop it used to when online shopping wasn't as mainstream. Hooks that worked in the past like free shipping and free returns are now commonplace.

Here's the most popular shopping days of the weekend:

1st = Black Friday
2nd = Saturday
3rd = Cyber Monday
4th = Sunday

These results lineup with what CPG was telling me about their strategy for the weekend. Create the urgency on Friday and then use Cyber Monday as a way to capture anyone who missed out with a reduced offer.
What should we look at next?
We're planning to cut the data up even finer to get you answers to how you did compared to your peers, and let you know what other brands were up to over the biggest shopping weekend of the year.
Here's what's coming next, so be sure to subscribe.
Performance based on size of brand
Performance by CPG vertical (food, bev, cosmetics, etc..)
Average discount used
Popular types of offers used

Have something else you want to see? Hit us up on Twitter or Linkedin to let us know what.