Why does Forbes and other big publications get to be the gatekeeper of who's deserving of an award. Wouldn't the community of that industry pick better winners? Well, we thought so and that's why we put together The CPAs (Consumer Packaged Awards).
It's been a tough few years for CPG. Supply chain issues, ingredient shortages, inflation and rising costs. It was time to put those worries aside for a bit and celebrate what's going well. Shine the light on the people in our industry that are super deserving of some recognition.
Not an awards show that gave recognition to the brands, but an awards show that recognizes the people at those brands doing the hard work day in and day out.
Over the course of a month you:
Nominated over 500 people for awards
Cast almost 2,500 votes
Showed up in the hundreds to support your peers
Here's your winners of the Consumer Packaged Awards, and why each of those winners loves this industry.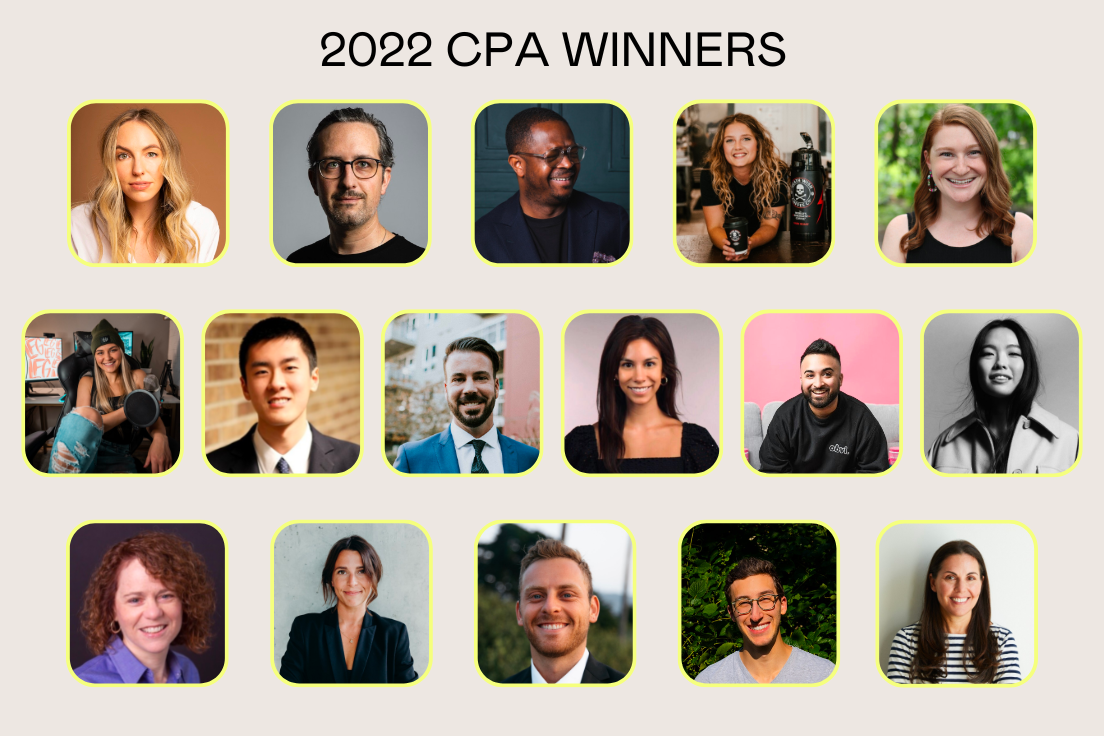 CPG Leader of the Year
A bit about Alison
Alison Cayne is the Founder and CEO of Haven's Kitchen, a creative cooking company on a mission to help home cooks feel like CHAMPIONS. Alison has been helping people cook, not just follow recipes, since 2012, when she opened the Haven's Kitchen Cooking School in NYC. In 2018, Haven's Kitchen launched its first product — a line of fresh sauces in a pouch, now available online, as well as in over 2000 stores across the U.S.
Why CPG is special
You learn something new every day!
Retention Marketer of the Year
A bit about Brenda
Brenda is  a numbers-focused retention marketer who has always been on the consumer side and almost always at DTC brands -- some already large and others in hyper-growth mode. She loves figuring out why something does (or doesn't) work and then finding ways to optimize it at Vegamour.
Why CPG is special
I love being able to help guide people in finding the right products to help meet their specific needs.
Email Marketer of the Year
A bit about Amber
Amber's been the Paid Media Manager at Kopari for almost a year and a half where she manages all acquisition + retention channels. It's extremely rewarding to be a part of a brand and a team that is growing immensely YoY. When I'm not managing paid media campaigns and looking for new ways to acquire new customers you can find me crushing dim sum and going to concerts + shows on the weekends.
Why CPG is special
It's innovative, forces continuous learning, is fast-paced, and the community is special.
CPG Advisor of the Year
A bit about Taylor
Taylor has been working in commerce for the last 14 years and has worked with some of the largest brands and software platforms in the space like: Shopify, Nike, P&G and dozens of others.
Why CPG is special
The community! It's full of amazing people with great intentions of helping each other.
Growth Marketer of the Year
A bit about Ash
Ash is the Co-Founder & CMO of Obvi, one of the world's fastest growing health & nutrition brands. Since launching in 2019, Obvi has surpassed 250K customers globally, all whilst boot-strapping its way to $30 Million in sales in less than 3 years.
Why CPG is special
I get to create a brand where someone says "Obvi has changed my life for the better", it makes every sacrifice we ever made to launch the brand, incredibly worth it.
Retail Sales Rep of the Year
A bit about Devon
Devon is an experienced Sales Professional involved in growing multiple brands including Mike's Hot Honey, RightRice and most recently Snow Days.
Why CPG is special
I love how collaborative the culture is and seeing the energy and excitement behind every person and brand in the ecosystem.

Social Marketer of the Year
A bit about Kevin
A nutty Social Media Manager for MANSCAPED, helping create and run content for a global brand in over 40 countries.
Why CPG is special
It forces a certain amount of creativity in order to get in front of the right audience.
Logistics Operator of the Year
A bit about Alyssa
Alyssa's  been at Swoon for 5.5 years and was hired as the second employee back when it was called Be Mixed. Over the past 5.5 years she's been an integral part of the evolution of the brand. She's overseen the supply chain for 7 new products in the last 2 years, and kept fulfillment and logistics moving and grooving through some of the most challenging years our industry has ever seen!
Why CPG is special
I love that every day is completely different and the challenges that brings!
CPG Rising Star
A bit about Paul
2x Founder, habitual hater of refrigerator ice & Booze slinger at Phreshly, a  premium cocktail company. Ex- Settle, Chime, Yammer
Why CPG is special
The community! As a CPG, newbie this is my absolute favorite part. To be able to bury your head in shame and ask for help.
Data Analyst of the Year
A bit about Jonny
DTC operator focused on Retention and CX at Huron. Previously at Casper, Goldman Sachs.
Why CPG is special
Getting a front row seat to the best products and experiences in the market, while also meeting the talented operators that build them.

CPG Influencer of the Year
A bit about Nate
Many know Nate for his  love of snacks and all things CPG. He has his finger on the pulse of every CPG trend and launch. He's  had first-hand experience helping challenger CPGs scale & navigate the ever changing consumer landscape.
Why CPG is special
I think simply put it's the amazing people and ingenuity behind everything.
Ecomm Manager of the Year
A bit about Cameron
Cameron is a proud father and self-identified eComm nerd. He currently leads ecommerce and digital efforts for Aura Bora. Spearheading initiatives across email, retention,  digital advertising, and existing customer activations like "the secret menu."
Why CPG is special
My favorite part about working in CPG is the ability to help consumers make informed choices by offering  better-for-you options.


Product Innovator of the Year
A bit about Rebecca
Rebecca is the Cofounder + CEO of Soft Services. She is also the Cofounder Offhours, and was an early employee at Glossier.
Why CPG is special
There is nothing quite like the pursuit of making a product people love.


CX Operator of the Year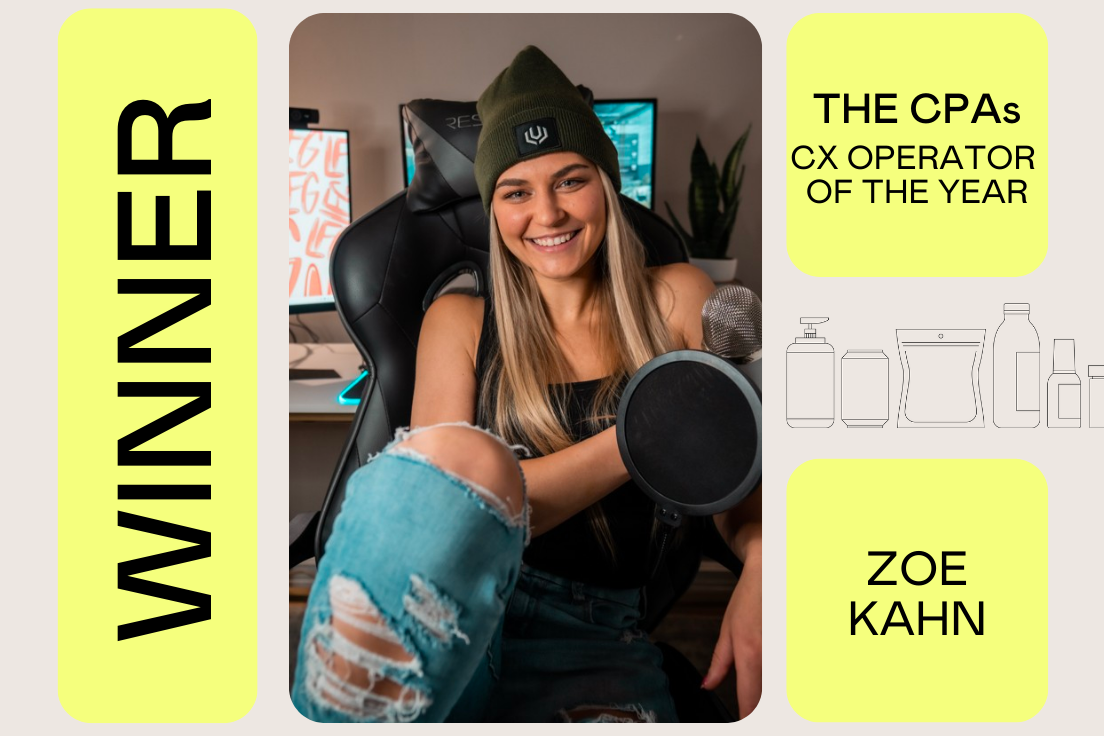 A bit about Zoe
Zoe is currently the Sr. Associate of CX at Chomps and formally managed the Customer Support team at GHOST. Before that, she managed GNC's in North Carolina and downtown, Chicago. She also streams on Twitch in her free time and was actually on a TV show called Frogger (you can watch Ep. 4 on Peacock!)
Why CPG is special
Being able to change lives by providing products that positively impact people's days.


Brand Strategist of the Year
A bit about Grace
Grace is a brand and marketing strategist. She was Madewell's first content hire, built the content division at Derris, and now consults for CPG brands and global companies.

In 2019, she founded Gen Z Board of Directors, an insights series hiring Gen Z to teach them advisory skills while delivering tailored reports to enterprise businesses. She is the co-chair of WNYC's Community Board. She runs a dinner party series for consultants and founders, and splits her time between New York City and Paris.
Why CPG is special
Being able to change lives by providing products that positively impact people's days.


SMS Marketer of the Year
Thank You CPG

The support for The CPAs shattered all of our expectations here at Repeat. The reason it did is because CPG is such a tight knit community, one that we are super grateful to be a part of. You all wanted to show your support for one another and we're glad we were able to enable that.
A special thank you to all of our presenters who volunteered their time to bring the awards show to life, Our finalists for all of your participation, Tess Allen and Kristen LaFrance for organizing and running the live event, and of course all of you for making the CPG community what it is!
So what do you think? Should we do it again in Summer 2023?