When we launched our Klaviyo "Due to Reorder" trigger last month, we saw brands chomping at the bit to use it. And use it you did.
Brands who converted their old, statically timed replenishment flows into shiny, new flows powered by Repeat's logic saw impressive results. By personalizing the timing of reorder reminders with the Repeat trigger, brands have seen:
2.2X Klaviyo-attributed revenue from flows with the Repeat trigger
10% lift in click-through rate with Repeat trigger
And they used it make their lives easier by simplifying complex flow setups: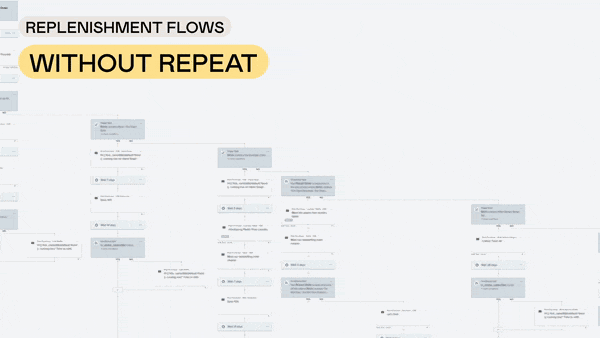 But, you pushed us for even more. And we were happy to oblige.
In addition to personalized timing of your reorder flows, you wanted personalized content, too. Today, our Repeat triggers are getting even better with the introduction of dynamic content that does just that.
What is dynamic content?
With this update, we're bringing more personalization to Klaviyo flows powered by Repeat. Now, when you start a flow with the Repeat trigger you can personalize the message with information about the products that the recipient is ready to buy again.
What type of content? You can use these additional variables to for each item in the "Due to Reorder" section of a customer's Repeat cart:
Product and variant titles
Image (the variant or products primary image in Shopify)
Price
Product URL (if you'd rather the customer buy on your site than in the Repeat Cart)
How are brands using dynamic content in their messages?
During the beta, we saw brands implement this personaliztion in some very cool ways. Check out this email from Stryx:

Not only is the email sent at just the right time because it's powered by the Repeat trigger, the "Recently Ordered" section of that email is populated with dynamic content provided within the trigger itself.
Why use dynamic content?
Personalizing an email with the specific products that a customer ordered will help customers remember what they need more of. It makes it feel more tailored to them, too.
By personalizing your reorder email content, brands can improve their email performance even more than by just personalizing the timing. Brands using dynamic content see:
Better click through rates
More revenue per recipient
Ready to personalize your reorder messages?
Brands using our Klaviyo Due to Reorder trigger can utilize this dynamic content right now. Surprise! It's already coming through with the triggers you use today. Let us know if you'd like help putting it to use. We're always happy to lend a hand!
And if you're a Repeat brand not using our Klaviyo "Due to Reorder" trigger yet… why not? It's the best way to simplify your reorder flows and improve their performance. Get in touch and we can help you set it up.
Not using Repeat yet?