CPG brand's DTC revenues in Q2 grew at their slowest rate—10% YoY—since the start of COVID, thanks to a marked decline in new customer acquisition.
After analyzing more than $1.7 billion in consumer spend on a trailing 15-month basis across CPG brands on Shopify, Repeat found that new customer acquisition declined 8% YoY. The only reason for that overall growth? Returning customers. Their spend with brands increased 25% YoY.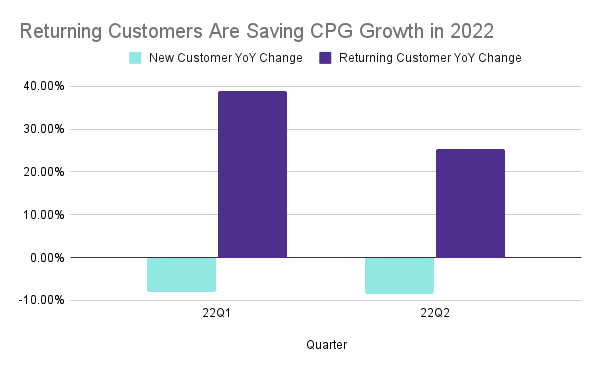 Q2 marks the first quarter that CPG brands have seen their new customer acquisition decline on a YoY basis since COVID, but there's been a steady trend of slowing growth there, first due to difficult comps from the initial COVID-induced shift to spend online, then iOS14 challenges. Now, inflation and the looming possibility of a recession appears to have impacted brands, as well.
As we dig deeper into the quarter's data (there are, after all, a couple of hours left in the quarter), we'll be sharing more insights and adding charts to visualize this data, but here are a handful to get us started:
New Customer Acquisition Growth Slowed for Four Straight Quarters Before Starting to Decline
Returning Customer Spend Will Likely Account for 2/3 of All CPG DTC Revenue in Q3
Marketing Channels Have Lost Efficiencies
New Customer Acquisition Growth Slowed for Four Straight Quarters Before Starting to Decline
Overall DTC revenue growth for CPG brands has been on a steady decline since 2021, when YoY numbers topped out at nearly 3X YoY growth.
After a strong start in Q1 2021, those growth numbers have slowed, nearly halving on a quarterly basis.
The obvious macro reasons for this tie to COVID YoY comps (Q1 2021 was the final quarter in which a year-over-year comparison connected the pre-COVID and post-COVID worlds), iOS14 changes (Q2 2021), supply chain issues (Q4 2021) and, now, inflation.
It's impressive there's been any growth at all. But there have been casualties: Acquisition growth has dropped precipitously.
Now, acquisition is in decline.
Returning customers, meanwhile, have offered a leveling force against this dynamic.
Returning Customer Spend Will Likely Push Comprising 2/3 of All CPG DTC Revenue in Q3
For many emerging CPG brands, returning customers have historically comprised 40-50% of a brand's overall revenue. With acquisition declining, though, that composition is changing.
Returning customers now account for more than 61% of DTC revenue for CPG brands. That's up from 54% in Q2 2021 and, remarkably, 42% in Q2 2020.
If current trends on acquisition and retention continue into Q3, returning customer share of revenue will grow further, pushing close to 2/3 of all revenue for CPG brands on Shopify.
DTC, in other words, is quickly becoming a loyalty play.
For brands working through growth plans, that likely means they'll face a difficult challenge:
More resources will likely be required to crack the new code on acquisition
But there's additional revenue to unlock on the retention side
The balance, as growth flatlines, will be tricky.
Marketing Channels Have Lost Efficiencies
As we wrote in our weekly newsletter, the knee-jerk reaction on the retention side to this type of insight is often to double down. Send more emails. Send more SMS. Maybe even retarget customers on your ad channels.
There is a risk, though, of squeezing the sponge dry (as Taylor Holiday of Common Thread Collective calls it).
Here's the thing, though: it doesn't seem like there's much room to do that. Because CPG brands already are.
Postscript's SMS benchmarks from 2021 and 2022 show that EPMs at the top end of their range on winback and post-purchase messages are down ~20% with brands that have high repurchase rates.
Klaviyo's Q1 22 benchmarks show per-campaign conversion rates have dropped from .28% in 2020 to .20% in 2022 for Food & Bev and from .15% in 2020 to .1% in 2022 for Health & Beauty.
One reading of this data is that brands are already sending more emails and more SMS to grow revenue from existing customers.
So, where's the growth come from?
As brands navigate a challenging period of growth, they'll need to start looking toward the onsite experiences they offer their customers.
Full-scale merchandising personalization is probably overkill, but offering easy, reordering experiences without an account login is a proven way to increase conversion rates and average order value from returning customers. Given that this segment is now responsibility for CPG growth, it's a wise investment to make.