When I say retention emails my guess is that your head immediately starts to think post-purchase flows. After all, if you want a customer to come back for more it makes sense to start there right? … right?
While post-purchase flows are a great tactic for increasing returning customer rates and shortening time between purchases they also can become complicated very quickly. What if there was a way to get your returning customer rate up and get reorders faster by just making a few changes to your existing email campaign strategy? You're in luck.
Here's an easy way to get existing customers to buy again using Repeat and Klaviyo.
Add Reorder Banners to Existing Campaigns
Something that we talk about at Repeat a lot is that there are two modes that a shopper can be in. They are in shop mode or they are in buy mode. Shop is when someone is still in the consideration stage and is looking to discover products. Buy on the other hand is when a shopper already knows they love a product or brand and simply wants to get something again.
With this distinction in mind, every time you send out an email campaign to your larger lists you have two types of shoppers in there. The ones who need to explore/learn before they decide, and existing customers who want a quick and easy way to grab what they love.
A dynamic reorder banner allows you to hit both without needing to do any additional segmentation.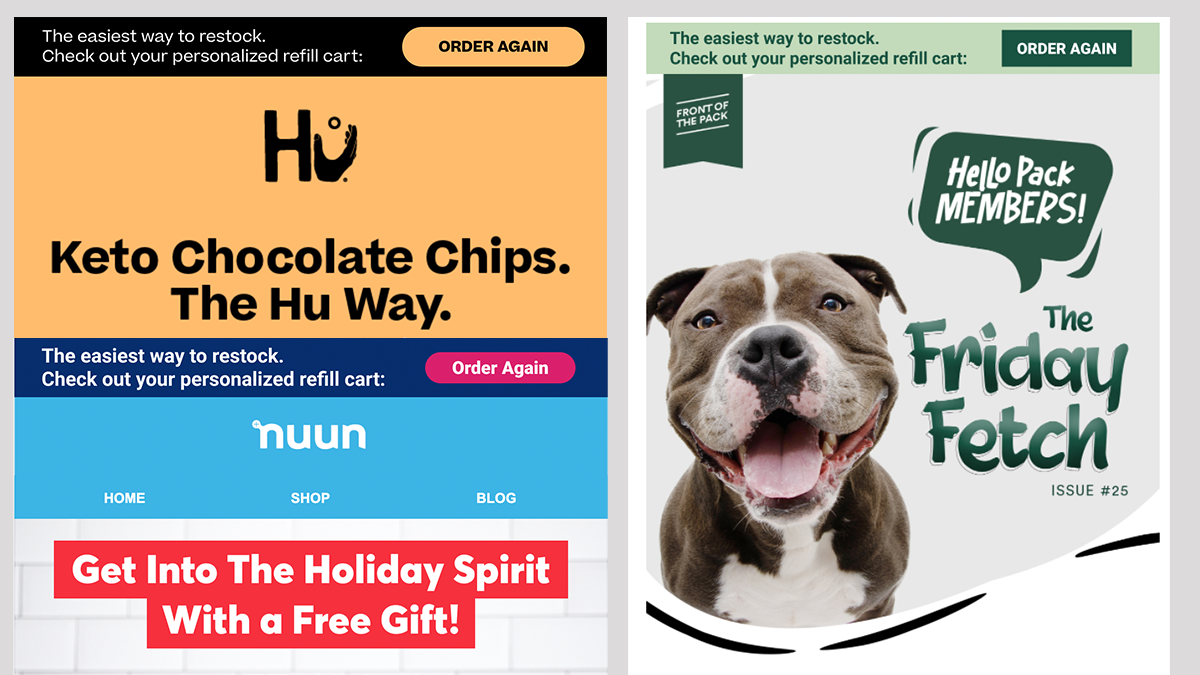 These banners utilize Dynamic Content Blocks within Klaviyo to only display a fast reordering option to existing customers that have previous order history. That way, those who already know your product have an easy way to buy it again.
The content automatically hides for prospects and current subscribers. Easy reordering is there for those who already know your products and out of the way for those that still need to be convinced.
Once these reorder banners are created they will live in your Klaviyo asset library and can be added to any future email. Or the easier way for me is to clone a previous email and start building from there.
If you are a Repeat customer, reach out to your CSM. They will build a reorder banner for you. Prefer to add to the footer? Your CSM can help you create that too, like this Olipop example.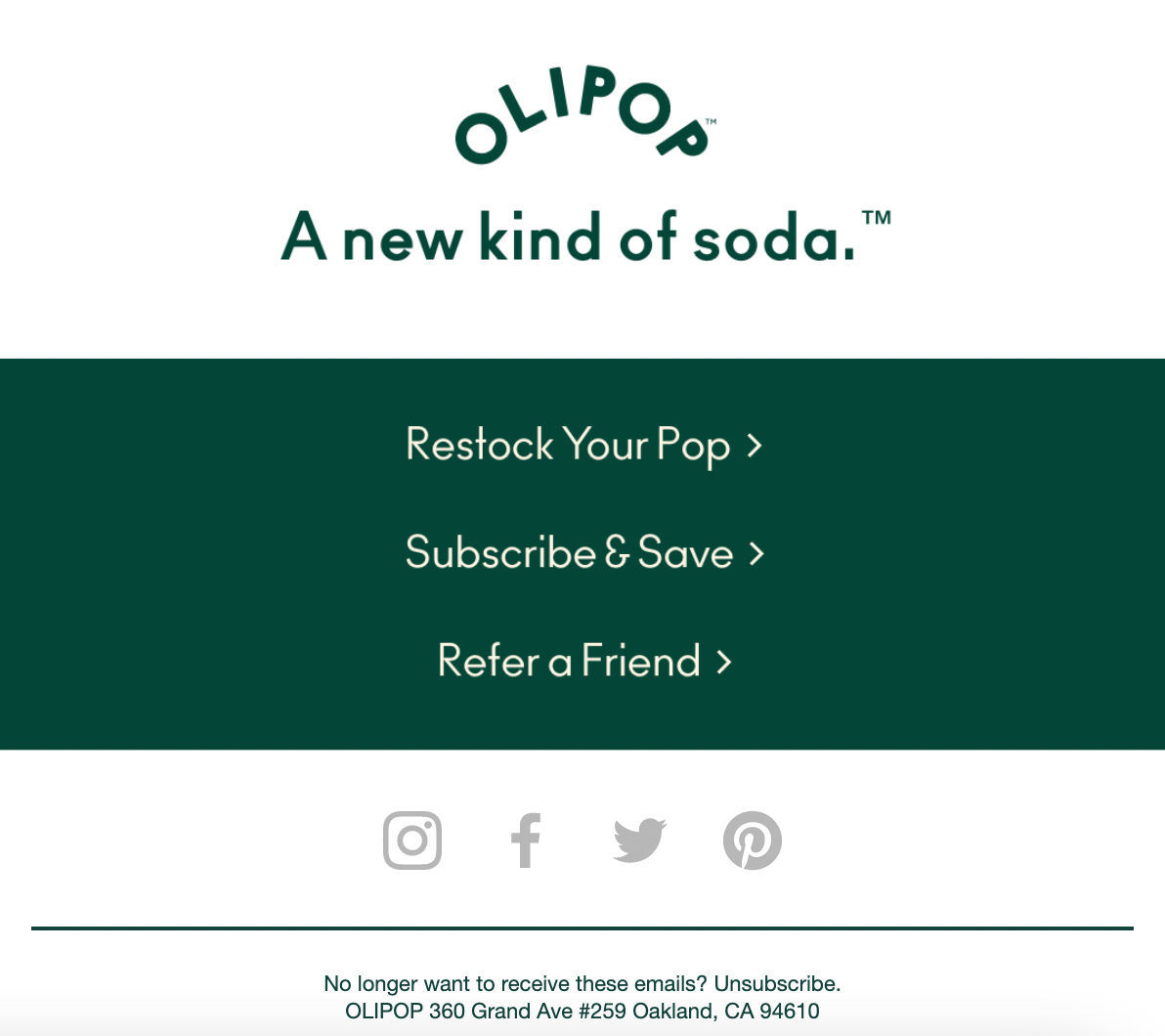 Shoutout to the copywriters over there. "Restock Your Pop" is the perfect CTA for returning customers that are being directed to a personalized reorder cart. What's that? Glad you asked because it's part of our next tip and it's exactly what Repeat does.
Send Clicks to a Reorder Specific Experience
Where do you send existing customers to buy again? My guess is to a product description page for a top seller or variety pack, a catalog page, or some form of custom landing page. This works, but is far from the best experience for the customer.
There is a much easier approach.
Instead of guessing what they want, or sending them too much choice, send them to a Repeat cart. Every existing customer has a personalized reordering cart that is rooted in their previous purchase history. Those personalized links are set per customer profile in Klaviyo so when you use the reorder banner each customer is getting sent to their own link via custom properties and the Repeat integration.  As an example, here is what mine looks like when I "restock my pop" with Olipop.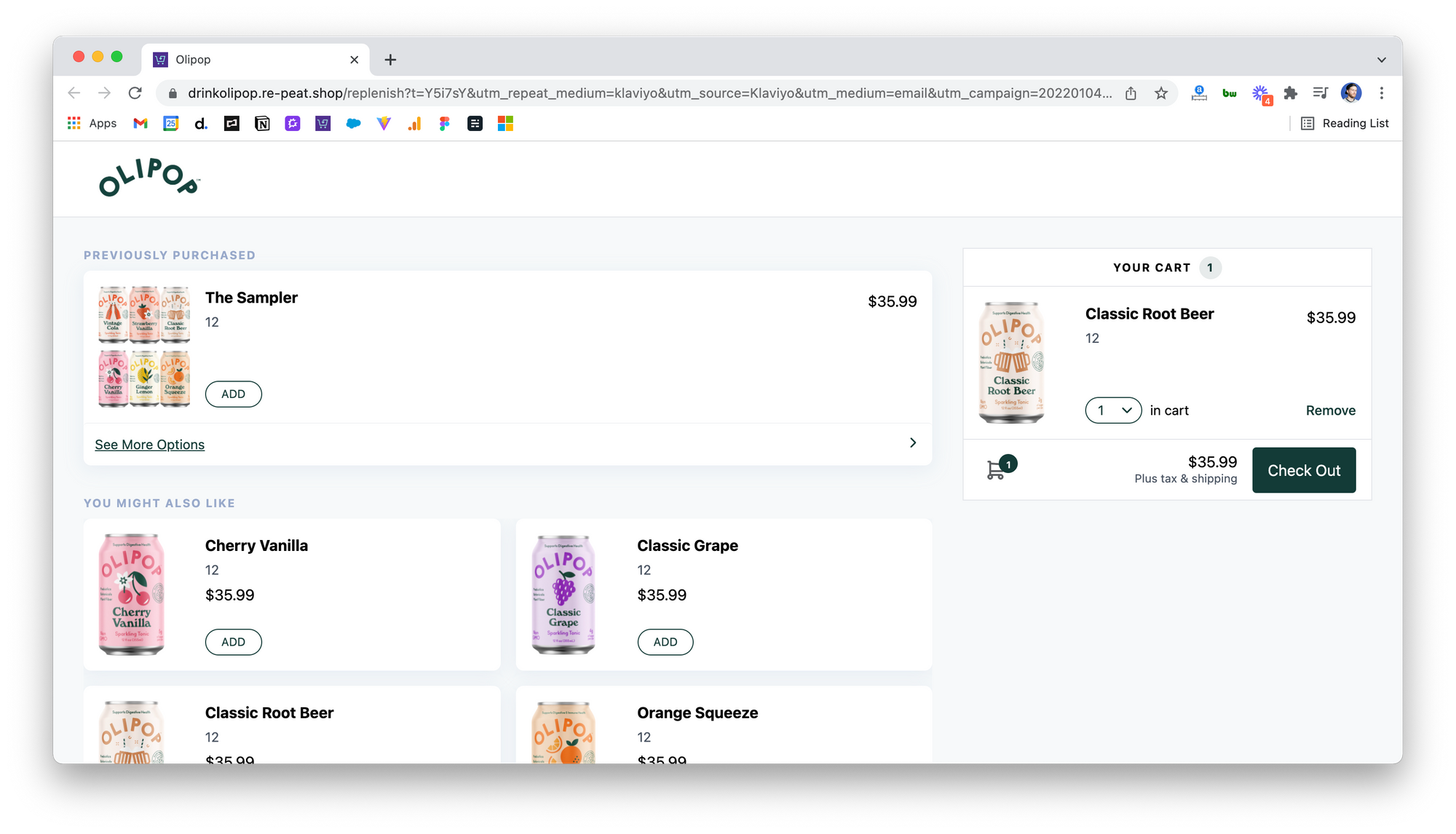 My last purchase was The Sampler. I clicked to reorder but I actually don't want a sampler again. I know what flavor I like. I'm going all in on Classic Root Beer (you probably should too).
The cart makes it easy for me to change what I want or add additional items to my existing order. Next time I click into this experience the Classic Root Beer as well as The Sampler will be in my order history to add. As I continue to reorder the cart becomes more personalized to what I like. Simple.
No Need to Over Segment Your Customer Lists
One of the hardest parts of retention emails (or emails in general) is having to segment your list very finely in order to make specific and relevant product recommendations.
You can continue to segment your lists for other reasons but with Repeat + Klaviyo and Reorder Banners you don't have to do it to make buying again easier.
With reorder banners all you need to do is add the dynamic content block to your existing email campaigns. No additional work for your team or agency.
A Better Experience for Your Customers, Better Emails For You
It's hard to argue with a reorder experience that's faster, easier, and more convenient for the customer, but is it effective?
Over the last few weeks we have been working with a handful of brands to test sending existing customers to a Repeat personalized cart vs back to the website.
So far we have seen a steep increase in revenue per send of emails that include a reorder banner CTA that drives to a Repeat cart. With the majority of the brands in our tests seeing a 20% increase in RPS (revenue per session) over directing back to a page on the site.
If you're an existing Repeat customer reach out to your CSM to get started.
If you're using Klaviyo but not yet sending returning customers to a Repeat personalized cart, book a demo to see it in action.