Let's talk about one of the biggest challenges facing DTC CPG brands today, and by extension one of the greatest opportunities that exists to grow.
That challenge is product discoverability.
I very purposely used the word "product" there. The challenge today is not getting shoppers to discover your brand. That is more or less solved and there are quite possibly 8 gazillion articles on the topic of advertising online. That's not what I want to talk about today, what I want to talk about is how to create greater discoverability of your product catalog so you can create more repeat customers.
I want to give you the answer to two questions:
How do I get visitors to my site to make that first purchase (in a profitable way)
How do I get customers to discover more of my product catalog for better retention
Let's quickly go over why these are such big problems in the first place.

DTC CPG Challenges Over-Simplified
Maybe one day I'll put together a post that goes into each of these in more detail but today this is just meant to frame a few things that make trial and discoverability difficult for online CPG brands.
Shipping is tough for low price-point items: This one is more for the food/bev brands. If you want someone to try a product before they commit to a bigger order you have to be willing to ship out A can or A bag and the shopper is not going to pay that shipping to try it. You will also be reluctant to pay the shipping on such a small order just to hope 🤞 they come back.
Creating sensory experiences through a screen: This one is pretty self explanatory. Your site is not COSTCO where you can just handout samples, nor is it a retail experience where a shopper can pop the lid off your products and give them a smell.
Shoppers won't walk past your products: This is the one that presents the most problems for young DTC CPG brands. Even if they try it, they are not going to walk past it again the next time they are in the store to remind them to grab it.
Now that those are out of the way, let's go into some examples of how CPG brands are driving trials and product discovery with examples.
Variety Packs Let Customers Discover Their Favorite

You want shoppers to buy in higher quantities to cut down on cost per unit to ship, your customer doesn't know what product/flavor is their favorite yet to do that. A variety pack solves both.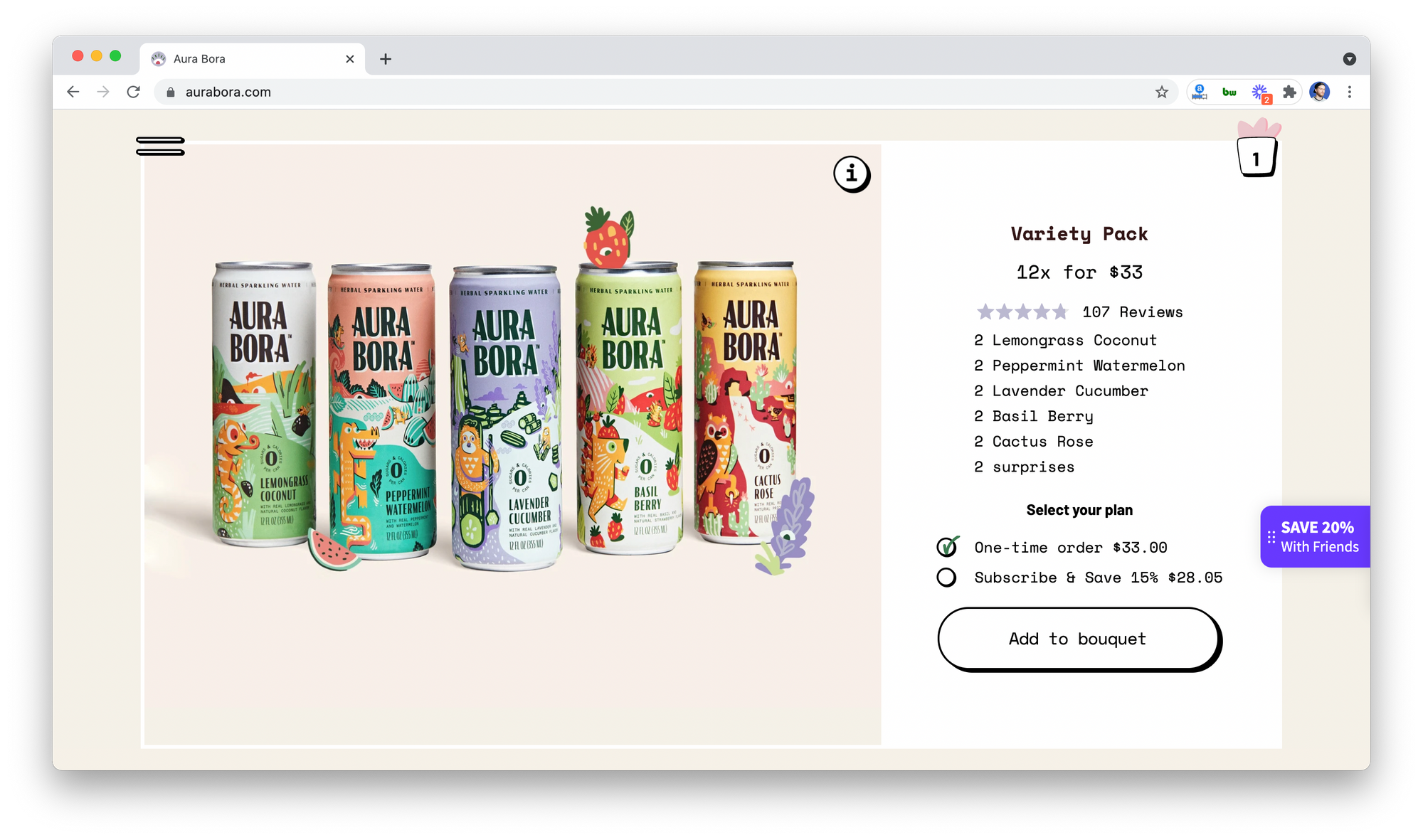 If you're already offering a variety pack, go check its popularity amongst 1st time purchasers. I'm willing to bet it's one of your top performing SKUs.
Why? Think about the first time you come across a brand or checkout a brand your friend recommended. You have no clue what to buy and you are now faced with a free shipping threshold to hit, limited knowledge of the product, and an inability to trial anything. As a customer you crave a variety pack that by itself just gets past the free shipping threshold so you can discover the flavours and minimize costs.
A variety pack that by itself is just above the free shipping threshold is a great way to get a 1st time purchaser to convert and try enough products that they will find one they love.
Since variety packs are most appealing to first time buyers, I love that Aura Bora defaulted the selection in the example above to a one-time order. The plan with a variety pack is to encourage a trial that leads to discovery of the flavor they love. Once that discovery happens, you can get them to come back for that elusive 2nd purchase to get the flavor they love.
Variety Packs are The Gateway to a Repeat Customer
When a customer has been able to sample a multitude of flavors, they have a much better chance of finding one they LOVE.
This is where the door opens to creating a repeat customer. Notice how I didn't say subscriber. That was on purpose. The goal at this point is to get them to repeat and build a habit before we ask them to commit to a subscription.
One way to do this is to build a post-purchase flow specific to your variety pack. That flow should come at the average replenishment interval and ask the customer "which was your favorite?" for simplicity you can send them to the product catalog so they can reorder the one they liked the best.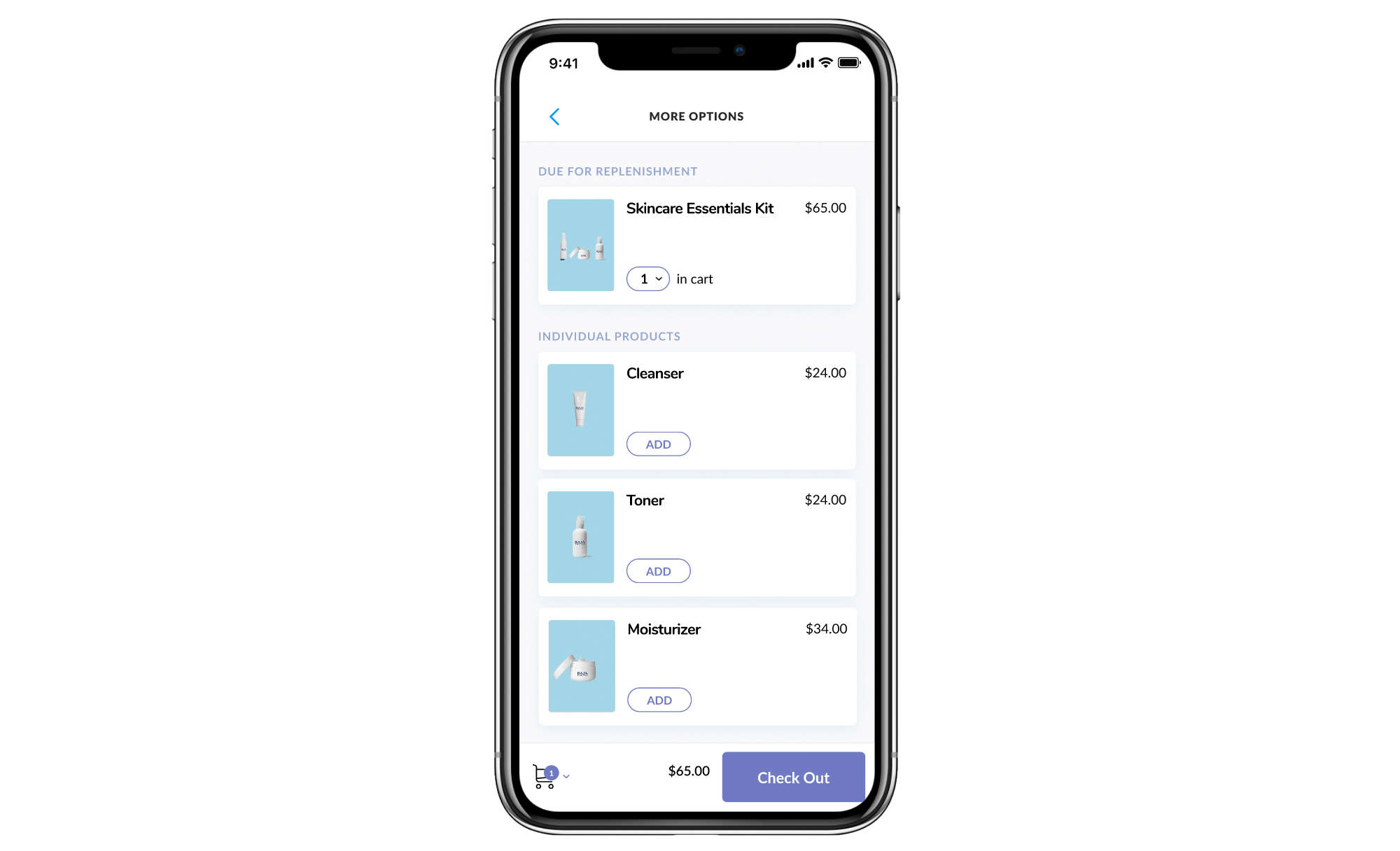 Shameless plug for something much simpler. With Repeat you can actually send each shopper to a personalized cart where they can easily reorder the variety pack or in two clicks purchase any product that was part of the first variety pack.

Bundle A Best Seller With More Replenishable Products
Some products are great for conversion but not so good for LTV. Some products are top sellers but are not replenished or replenished very slowly. Solution… surround that top seller in a kit or a bundle with other products that might be purchased more frequently.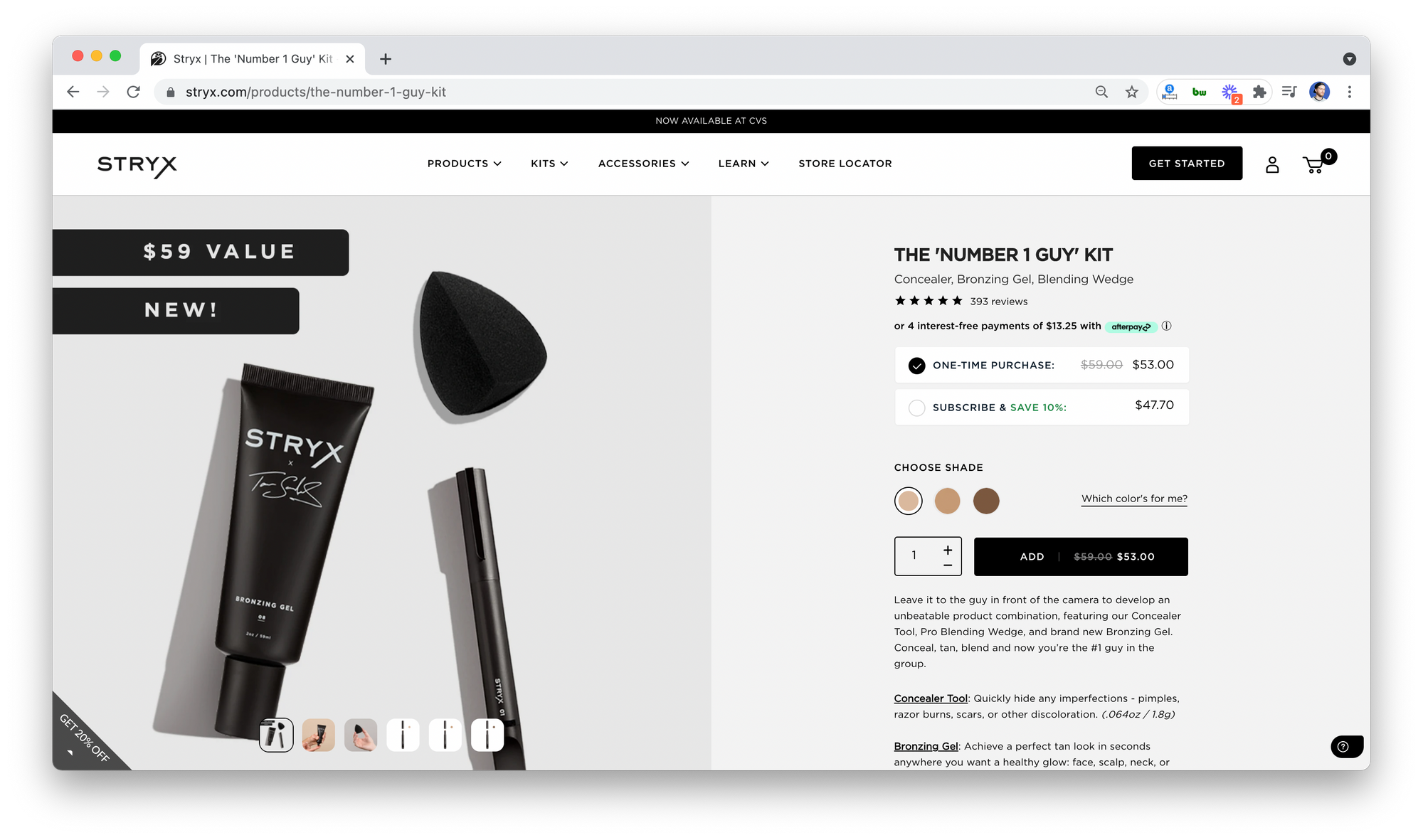 Here's a great example from Stryx. I don't know this for certain, but my guess would be that the concealer tool is a top seller for the team. However, it likely lasts a long time. The concealer tool is present in all 5 "kits" you can buy on the site.

Take notice of what the concealer is paired with in each kit… the bronzing gel. A product that is likely consumed much faster and therefore needs to be reordered sooner giving the team a valid reason to reach out and encourage a repeat order. The products you choose to bundle with a best seller can have a HUGE impact on your repeat customer rate, LTV and loyalty.

"Bundle your top seller with a product that has quick replenishment cycles to turn a high converter into a strong retention play."

If you aren't sure what products have the shortest replenishment rates you can use a tool like Repeat to see those at a glance.
Include Samples for the Next Purchase
You won't always get someone to choose a kit with your more replenishable products in it. Instead give a sample of it for free. Samples are a fantastic way to encourage additional product discovery post-purchase rather than drive it pre-purchase through a kit.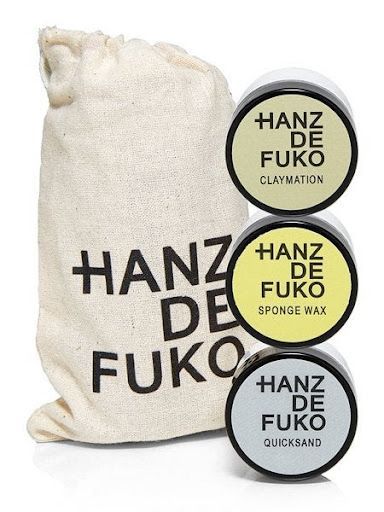 The example above is from Hanz De Fuko, a men's hairstyling brand that I love. I have tried almost every product in the catalog because of the samples they included in my orders. I started with Quicksand, and each order a new sample drove me to a full size of the next product. Each sample had enough to style your hair once or twice to trial before you committed to buying.
If you sell more than one type of product, you can use samples in the same way as you decide what to include in a bundle or a kit. Encourage the trial of a product with higher LTV or with a faster replenishment interval than the product they originally bought. It's how you encourage the next purchase when a shopper won't be strolling past a shelf with your product on it.
Include a QR Code with Samples for Easy Reordering
While samples are great, they still require a heavy lift from your customer to order. They need to try it, navigate to your site, find the product in the catalog, and add it to the cart from the product description page.

Or…

Include an insert with the sample with a QR code that brings the shopper directly to where they can order the full size. Using Repeat's QR codes you can send your customers to a cart with the sample item already loaded in the cart to purchase.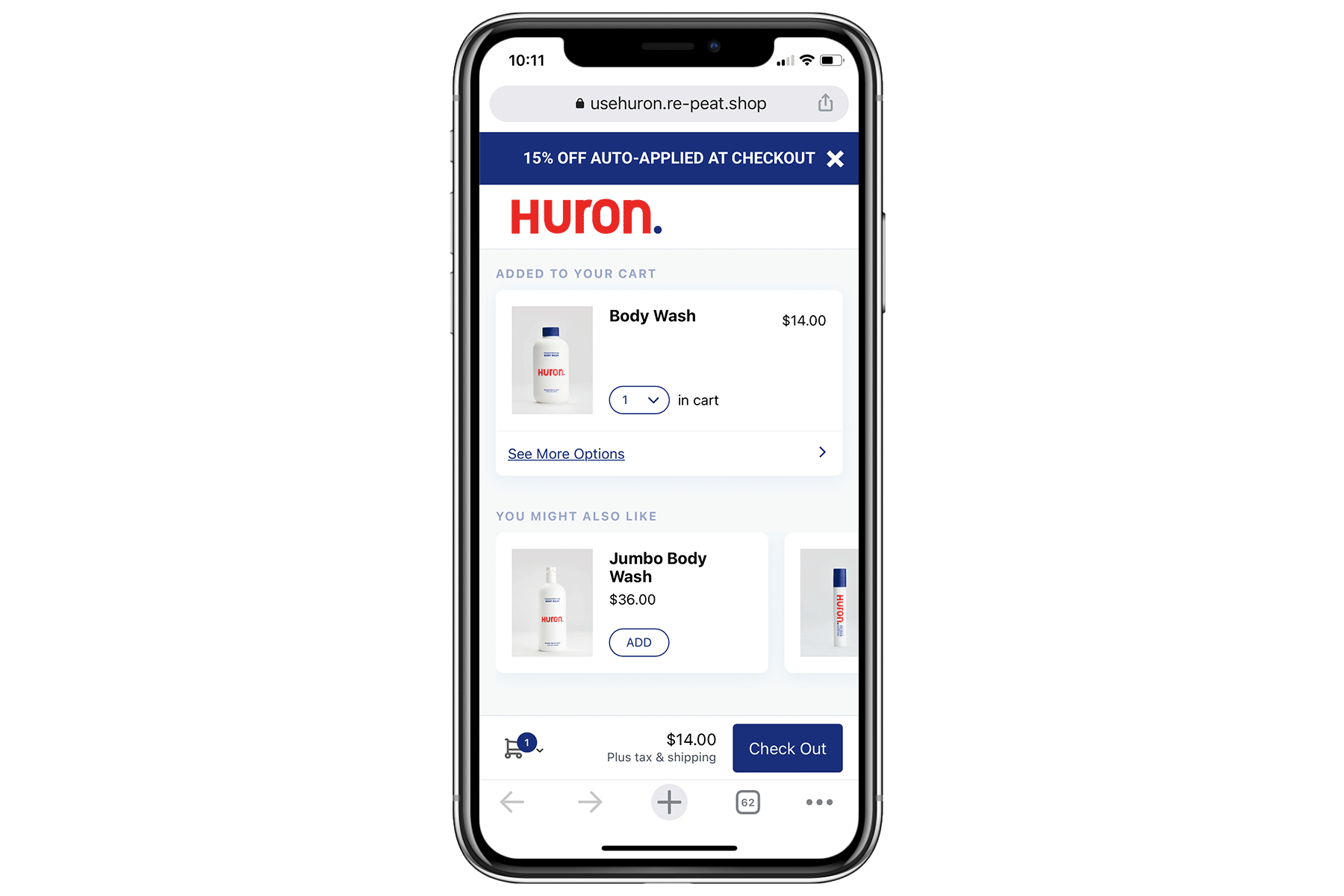 You can even encourage further product discovery by adding other popular products with high LTV to the "You May Also Like" section of the cart.
Product Trial and Discovery Leads to Higher CPG Retention
The products a customer starts their relationship with plays a huge role in whether they will return for another purchase or not. Best seller and variety packs give you a better chance at putting a product that customers love in front of them.
You have an even better chance at building a higher repeat customer rate when you pay attention to what products have short replenishment intervals and high LTV. When you're armed with that you can build your product experiences to nudge customers to those products.
My biggest piece of advice is encourage a 2nd order before you try to push a customer to subscription. Afterall, until they make that 2nd purchase they are essentially still trialing you out.