Repeat purchase rate is an often hidden metric for ecommerce businesses. In fact, if you were to log into Shopify, there are no out-of-the-box reports that report on it.
And that's a problem: Repeat purchases are like compounding interest for your monthly sales. So, the more you understand your repeat rate, as well as the levers for increasing it, the more you'll understand how fast you can grow organically—and what you can do to accelerate that growth.
What is repeat purchase rate?
Repeat purchase rate measures the percentage of customers that make more than one purchase in your store within a set period of time.
To calculate repeat purchase rate, you need to first pick a time-bound cohort of your first-time customers. Then, divide the number of repeat customers—or customers who make a second purchase—by the total number of customers in the cohort. In short hand:
Repeat Purchase Rate = Number of Returning Customers From Time-Bound Cohort / Number of Customers In Time-Bound Cohort
For example, if you had 2,500 new customers in January and 400 of those customers made a second purchase by the end of March, your quarterly repeat purchase rate from your January new customer cohort would be 16% (400/2500) for Q1.
Note: Repeat purchase rate is not the same as Shopify's Returning Customer Rate, which tells you what percentage of sales are coming from returning (or repeat) customers over a given time. As we'll explore, this is a critical difference.
Why understanding your repeat purchase rate is valuable
Repeat purchase rate is a useful metric for any CPG brand.
First, it provides valuable insights into how "sticky" your product is. Second, it gives you an idea how many loyal customers make up your base. Knowing this can help inform marketing decisions and boost customer retention all around.
Below are some of the benefits you can derive from understanding your repeat purchase rate.
Validate product-market fit
A high repeat purchase rate implies that your customers find value in your product and you're in the right market. No retention strategy can make up for a lack of product-market fit.
On the other hand, if you offer replenishable products that customers should be consuming repeatedly and your buyers are not coming back, you need to research what's wrong. Often, this has less to do with marketing than it has to do with product.
Higher repeat rates offer a built-in growth channel
Increasing repeat purchase rates can be a potent growth lever for any business. Studies have shown that customers making a second purchase tend to spend up to three times more than they did while making their first purchase.
In addition, building a habit around your product strengthens relationships and improves funnel dynamics:
This type of customer loyalty is behavioral and requires less marketing dollars to generate revenue. It also serves as a strong foundation for growth: 40% of ecommerce revenue comes from repeat business. Imagine knowing that you have 40% of your month's revenue target covered from the outset. Changes things, no?
Improves marketing efficiency
If you're tracking blended CAC (Cost to Acquire Customer) or MER (Marketing Efficiency Ratio) to understand your marketing efficiencies, improving repeat purchase rates can help you drop that figure.
While there's the oft-cited statistic that retaining customers is 5x cheaper than customer acquisition, that's where the conversation often ends. But extrapolate that out just a touch further: If you're able to increasingly retain customers—and you don't have to spend as much to retain them—you now have optionality: 1) You can spend more to acquire new customers or 2) You can reallocate dollars to other areas of the business to further improve repeat customer rates (see below for ideas).
Either way, you've got a more efficient engine.
Proven strategies to increase repeat purchase rates
Before you can increase your store's repeat purchase rate, you must first track your current rate. While we recognize the desire to benchmark against others in your category, we'll borrow a line from Jon MacDonald at The Good and tell you that a good repeat purchase rate is one that's "always improving."
That said, below are a few methods of expanding customer lifetime and improving your brand's repeat purchase rate.
Create products worth repurchasing
There is, of course, a reason the 4Ps of Marketing are listed in the following order: Product, Price, Place, Promotion. Without a product, you have nothing—especially as it comes to repeat purchases. Yet the item listed last gets most of the attention today.
And that means the middle is often overlooked (at least when it comes to public discourse). That seems wrong. For CPG brands, making it easy to get a good product, at a fair value, is core to repeat customer growth.
High-quality products with high-quality descriptions
There are many reasons outside a brand's control related to why a customer may not make a repeat purchase. What is in the brand's control, though, is a good quality product. When customers are not satisfied with whatever they buy, they'll not only refuse to make another purchase, but they can give bad reviews that could even chase potential customers. So, whatever you do, ensure the quality of your products remains top-notch.
While you're at it, aim to keep customer experience high by writing great product descriptions. Is your lemon soda really sour? Let people know. Some of us like it really sour and some of us don't. In other words, the product could be bang on, but a poor description could give the wrong impression.
Offer 2-day delivery
For DTC brands, shipping times are part-and-parcel with the product (since there's no other way for a customer to get it). And, so, investing in making that as fast—or at least transparent—as possible is another way to keep your customers coming back. According to a survey by A.T. Kearney, most North American customers believe three days is an acceptable waiting time for online orders. If you can deliver when you say you will, you have a better chance of increasing customer returns.
Listen to customers
If you want to get your customers coming back, start with understanding them. "Listening" here implies studying their behaviors and purchasing habits, listening to feedback, and learning more about their needs.
Survey customers
Analyzing data, like purchase frequency and replenishment intervals, can help you understand how often your product is being used, but it leaves a gap in the why. Surveying customers helps build a qualitative understanding of that data, giving you insights to what you can change to improve or strengthen behaviors you want to impact.
Answer questions and comments
Here's a stat for you: 8 out of 10 businesses feel they offer great customer service, but less than 10% of their customers agree with them. One of the best ways to make your customers happy is by answering all their questions and engaging with them on social media—especially when it's unexpected.
The unquestionable ace of this is Eli Weiss of Olipop, who doesn't just celebrate customers who like Olipop, but also offers thanks and flavor alternatives to customers who don't like what they tried.
Check this: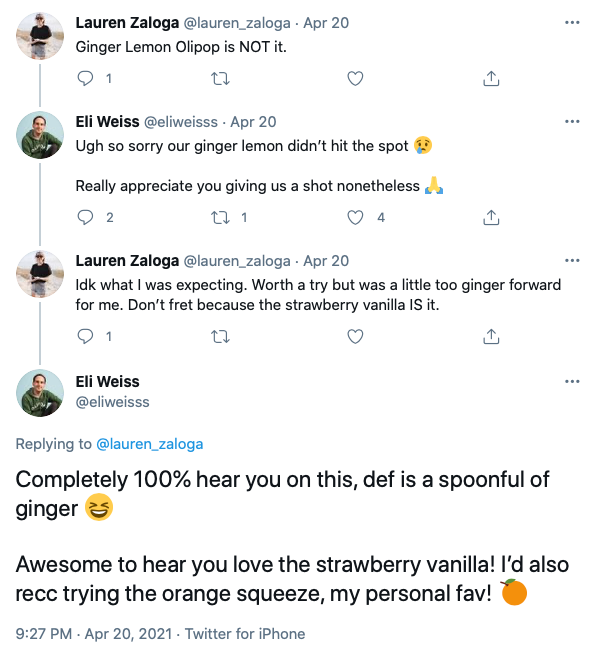 Dedicating resources to responding to customer feedback and increasing customer engagement may feel like a cost center, but it's one of the easiest ways to create a positive brand image—and far cheaper than additional media buys.
Personalize marketing efforts
Personalization is often associated with product recommendations, tailored promotions, and greeting customers by their name when sending your email marketing campaigns.
But it goes much further: Personalization also can be used to improve the timing of email sends based on replenishment intervals and building checkout experiences that are anchored to a customer's most recent purchase.
Make it easy to buy again
Making a repeat purchase should even be easier and more rewarding than making an initial purchase. Here are a few ways you can make that happen:
Simplify reordering with a pre-built cart
If your customers reorder the same or similar items from you, you can improve their reordering experience with a pre-built cart, placing the items they've previously purchased in their basket already. Think of it as your own version of Amazon's "Buy Again" feature. According to an analysis of Repeat data, sending returning customers to pre-built carts can push conversion rates to 25%.
Send emails and texts with replenishment intervals in mind
Check your inbox and let us know whether you see the same thing we do: Brands sending emails on a set, consistent basis. The marketer in you is defending this, but the consumer in you is likely rolling their eyes. Why?
Well, for one, we only need so many socks, thank you very much. But for others we know personalization and, at the very least, list segmentation is possible. Staying in front of customers via email is a reasonable enough plan. But knowing when to send those emails, based on when someone is most likely to be entering a reordering window is really powerful.
With better replenishment insights, you trigger marketing campaigns based on their past purchases to optimize the timing of your campaigns.
Special offers and discounts for repeat purchases
Discounts have been proven to mostly pull forward purchases that would happen anyway, so they're not necessarily a lever to pull for increasing repeat purchase rates. But it is worth checking, as they can positively impact replenishment intervals (at least in the short term).
Through that lens, you'll want to investigate whether a discount helps you increase repurchase rates among specific segments of your customer base and whether the size of the discount is justifiable.
---
With the rising cost of acquiring new customers, getting your existing customers to keep coming back has never been more important. Repeat purchase rate is an important metric for measuring your performance in that regard.
Brands should continually explore tactics that can increase their repeat purchase rates, and some of the points highlighted in this article will definitely come in handy.