Alex Greifeld is back again to settle a debate.
Whenever costs rise on a popular customer acquisition platform, a chorus of marketers emerges, telling brands that they should focus on customer retention instead. So who is right?
Should your business focus on customer acquisition or customer retention? Well, it depends…
How To Determine Your Business' Customer Acquisition And Retention Potential
In an ideal world, every business would have both customer acquisition and retention completely dialed in. But we live in an imperfect world where time and resources are limited and you need to make decisions that deliver the most impact for your investment.
One metric will help you understand the potential upside of a retention program right away: your Year on Year Customer Retention Rate. This is the percentage of customers who purchased in year n and came back to shop again in year n+1. For example, if 100 customers purchased from me in the year 2020 and 30 of those customers came back in the year 2021, my Year on Year Customer Retention Rate would be 30%.
If you track this metric over time, you'll see that it doesn't change much…unless you make some significant changes to your business model. Your customers' relationship with your product category is a big factor in your potential to retain those customers. For example, the YoY Retention Rate of a toothpaste brand is going to be higher than a car manufacturer.
If you build out a retention marketing program that leverages a deep understanding of your customer and their relationship to your brand, you can improve your YoY Retention Rate. Marketing isn't going to transform cars into toothpaste, but it can still make your business more profitable. You just need to start with realistic expectations.
Leaky Buckets vs Recurring Revenue Businesses
Let's examine two common business models to better understand how customer acquisition and retention might contribute to growth.
The Leaky Bucket
The first business model is the Leaky Bucket. This is a business with a YoY Customer Retention rate between 15-35%. This business resembles a leaky bucket because more than half your customers are "leaking" out of the business on an ongoing basis.
Quick numerical example:
You acquire 100 customers this year who spend $100 each for a total of $10K in sales.
Your YoY Customer Retention Rate is 25%–25 of those customers will return next year. If they spend at the same rate, you're going into next year with $2.5K in sales already spoken for.
If your acquisition rate remains steady you'll bring in 100 more customers next year, each spending $100. So you'll make $10K from the new customers + $2.5K from the returning customers, or $12.5K total.
Your leaky bucket grew sales by 25% YoY, but only because you kept your acquisition rate steady. In reality, external factors are constantly chipping away at your acquisition power. Popular growth platforms like Facebook and Tiktok become more expensive. New competitors enter the market, making you work harder for customers' attention. Economic conditions change...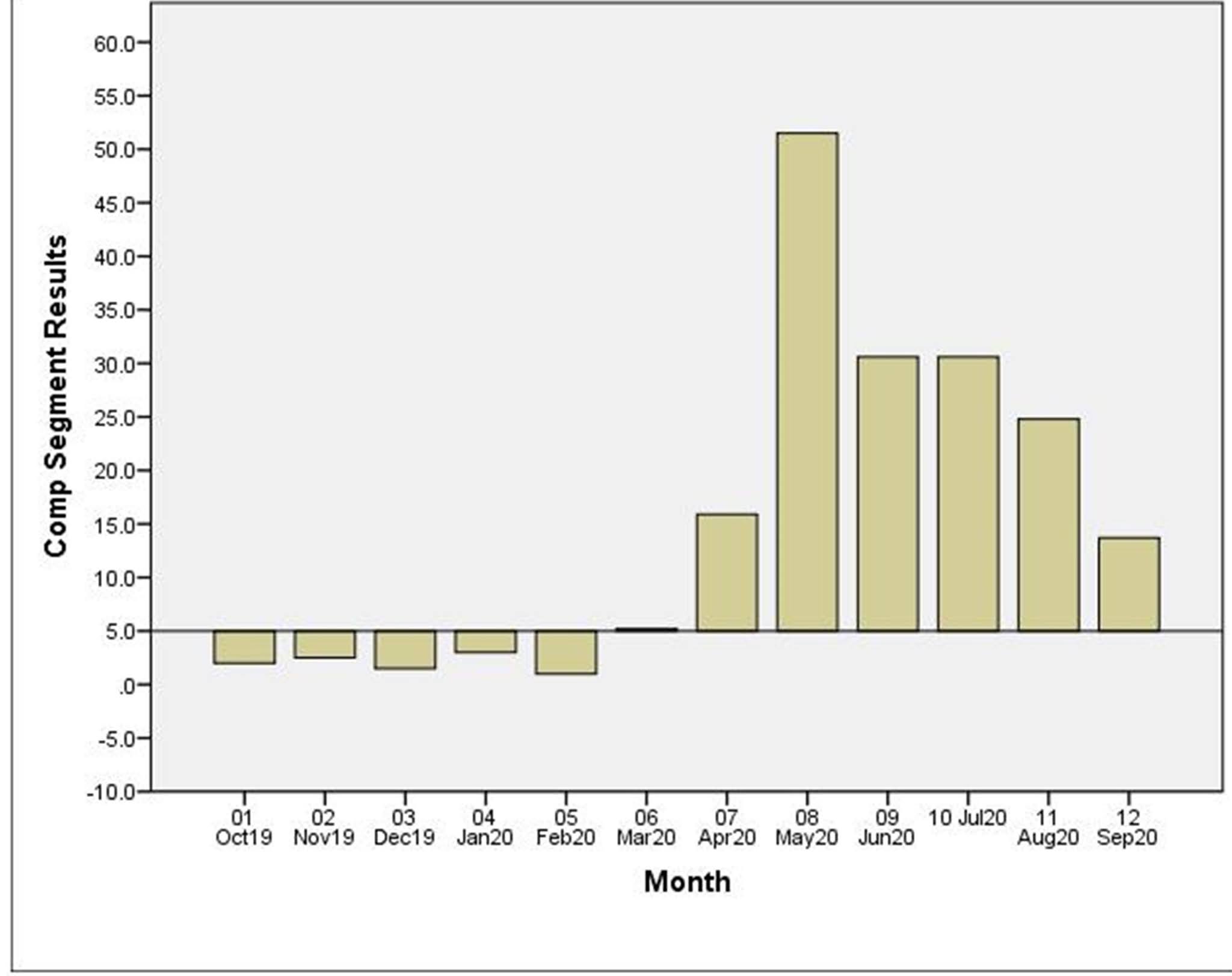 How much would you have to improve retention to make up for a decline in acquisition? In this example, a 10% decline in acquisition would mean 10 fewer customers and $1K less revenue. To make that up on the retention side, you'd need to improve your YoY retention rate by 40%! Remember, it's challenging to do that because your product and your category, aka the essence of your business, play a big part in your baseline retention rate.
The Recurring Revenue Business
The second business model is Recurring Revenue. This business has a YoY Retention Rate of at least 70%. Business models that require long term contracts or virtual products are more likely to exhibit YoY Retention Rates this high. The customer acquisition and retention dynamics in this type of business are different from the Leaky Bucket:
Quick numerical example:
You acquire 100 customers this year who spend $100 each for a total of $10K in sales.
Your YoY Customer Retention Rate is 75%–75 of those customers will return next year. If they spend at the same rate, you're going into next year with $7.5K in sales already spoken for.
If your acquisition rate remains steady you'll bring in 100 more customers next year, each spending $100. So you earn $10K from the new customers + $7.5K from the returning customers, or $17.5K total.
In this example you're able to grow revenue 75% by keeping your acquisition rate steady! If you experience acquisition challenges, it's much easier to make up the difference with small improvements in retention. And that's why you'll see software businesses invest so many resources in sales and post-purchase support.
Can I Turn My Leaky Bucket Into A Recurring Revenue Business?
The short answer is no. Turning toothpaste into software is just as hard as turning cars into toothpaste. Many brands have tried to build out a razor and blade model, where refills are part of the ongoing purchase experience. Other brands have introduced subscription or membership programs to improve retention rates. But these programs typically don't deliver software-style retention rates for a few reasons:
A subscription is not a contract. Businesses may lock in software for several years to get better pricing, but an individual consumer usually won't do the same for toothpaste or another consumer good.
Software doesn't take up space. You don't receive a box of fresh software each month. You do receive a new box or bottle of a consumer item regularly. These often pile up, which encourages your customers to cancel their subscription.
Switching costs are lower for consumer products. Software requires installation and training. These are time consuming processes that vary widely from brand to brand. On the other hand, brushing your teeth is pretty self-explanatory.
Despite these obstacles, many consumer brands continue to pursue a subscription-based model, especially if those brands are funded by venture capital firms. A consumer brand with the financial performance of a software company would justify the "unicorn" valuation and massive exit that most VC firms are looking for.
Unfortunately, things rarely play out that way because software and consumable products drive two distinct types of consumer behavior. Subscription-based consumer companies have struggled in the public markets due to challenges with customer acquisition and churn. Stitch Fix, which launched as a subscription service, is now moving away from the model in an effort to reach consistent profitability.
How To Prioritize Customer Acquisition And Retention As A Consumer Brand
If you're selling a consumer product, you're likely to be working with a leaky bucket. This doesn't mean that retention efforts will be wasted on your brand, but you need to implement them strategically:
Acquisition is retention fuel. Today's new customers are tomorrow's VIPs. But when 70-80% of your customers are unlikely to return next year, maintaining the momentum of your acquisition efforts is critical to continued growth.
Focus on the second purchase. This is your largest growth opportunity, because so many of your customers will be new to the brand. Repeat helps you convert more new customers by making it more convenient to repurchase and predicting when your customers will be ready to order again. Don't push loyalty or subscription programs  too soon. If you think about a brand/customer relationship like a romantic relationship, a loyalty program or subscription is the equivalent of proposing marriage. Don't do it after the first date (first purchase). That's just weird.
---
After spending loads on acquiring new buyers, most CPG brands start spending loads more on retaining customers. Got months to build up a customer loyalty program that may or may not take flight? If not, here's another option: Repeat.
We're here to make shopping fast & easy for brands and customers alike. Book a demo today if you're interested in sitting back, relaxing, and watching repeat purchases endlessly stack up.
Using Repeat, you can send customers to a super-converting, pre-loaded shopping cart that knows their favorite products based on purchase history + predictive tech. Give people what they want and then some.