Klaviyo is clearly a powerhouse. Armed with their flow builder, a solid email list, and some crafty subject lines, it's not hard to imagine how ecommerce stores can really clean up.
Flow pros like Lexie Bennett say online stores should be snatching 25-30% of their revenue from Klaviyo, with 15-20% of that coming from automated email flows.
Not quite there yet? If you've got room for improvement, stick around. In this post we'll show you five of the best Klaviyo email flows designed to help you land those coveted repeat customers.
Need Klaviyo flow ideas? Put on your customer hat
It should be clear to anyone running a DTC store that email matters. Done right, it'll pump up all the usual suspects: acquisition, incremental revenue, retention, repeat purchase rate, etc.
Done wrong, it will annoy people and ruin your brand. So before we get to the flows, do yourself a favor and put on your customer hat. No matter what Klaviyo flows you end up deploying, they won't work if buyers feel like they are in the middle of a cold email marketing campaign.
In other words, the flows are just one piece of the puzzle. We're not going too deep into that here, but there's a great pod where Klaviyo's customer advocacy lead Val Geisler talks about why customers prefer to be seen/heard rather than tracked/targeted.
Every email can be a reorder machine
The whole point of setting up a Klaviyo flow is to get customers to buy when you send an email their way.
For an email to convert, you'll need to leverage Shopify data, setup conditional splits & flow triggers, and hope for the best. Even with the tips below, there's a ton of work involved in getting your Klaviyo flows right & tight.
But if you're targeting existing customers, good news: there's a shortcut.
All it takes is Klaviyo, Repeat (that's us), and our secret weapon: dynamic reorder banners. Here's what they look like in the wild: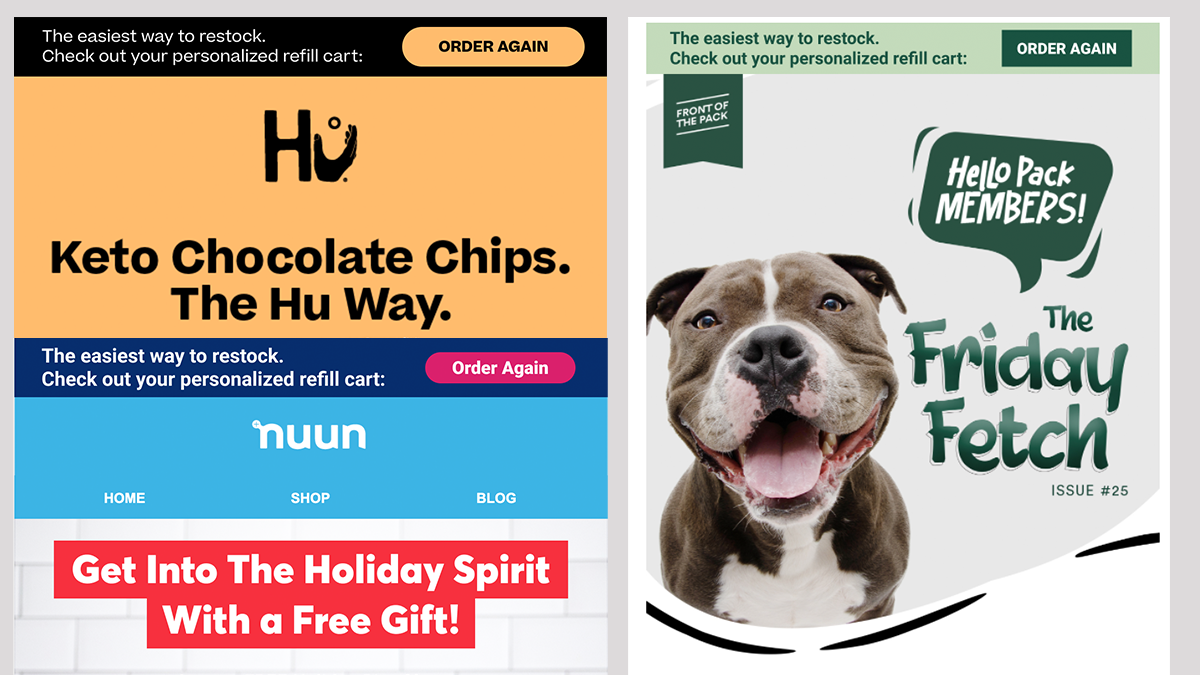 With a few lines of code, any and all emails can become powerful reordering machines. The dynamic code detects customer order history & generates a link to a personalized shopping cart with their favorite items preloaded.
From there, customers are just a click or two away from reordering! It's like the express checkout lane for your online store. With Repeat, you don't need to configure anything - plug in the code and it just works.
The 5 best Klaviyo flows
Gone are the days of randomly sending newsletters and crossing your fingers. To help us pin down the best Klaviyo flows, we asked our CPG House friends, Lexie and Lianna for an assist - and golly did they deliver.
The two of them put together *hours* of email workshop content… free for everyone! You just gotta join the community to get access. Oh yea, and they also have a flow chart posted with most of these flows documented there too. EZ mode awaits.
Alright, let's get to it. Here's what we are covering today:
Non-customer welcome flow
Post purchase nurture flow
Abandoned cart flow
Cross sell flow
Browse Abandonment Flow
1. Non-customer welcome flow
Triggers: Somebody joins your newsletter list.
Flow filters: User has not placed any orders (all time & since starting this flow).
This is a very common flow being used by just about every brand out there. So… you're doing it, but are you doing it well?
Think on this: at this stage, it could be that a customer has gone and signed up for several brands. Unbeknownst to you, they are sitting back, arms folded and saying, "okay you... impress me."
...and to the victor go the spoils! Don't feel pressure to overdo it, but certainly don't leave anything on the table. Rather than simply sending an email with a discount code, try a flow like the following:
Email 1: Short welcome + offer
Email 2: Brand story (or values)
Email 3: Tell customers what to buy
Email 4: Social proof (UGC, reviews, etc.)
Email 5: Social media invite
Lexie's pro tip: you don't always have to include an offer, but always include value. That said, if you are getting email signups from a pop-up promising an offer, deliver on that promise!

2. Post purchase nurture flow
Triggers: Somebody placed an order.
Flow filters: User has not been in this flow for 7 days.
This Klaviyo flow is also very standard. According to our flow pro Lexie though, nurturing has got to be two flows at minimum: one for new customers, and one for returning customers.
There's nothing worse than coming back to a brand, making a repeat purchase, and then receiving the same emails you got the first time around all over again. Accidentally reminding people that they are "just another customer" is a great way to make them fall out of love with your brand.
The bottom line here: don't skimp on effort when you've got a repeat customer within your grasp! They've made a purchase, and the post purchase flows are there to nurture them into coming back on repeat.
One more thing to consider here is that details matter. When you're setting purchase flow filters, it's possible to go super deep. Think about where divergent paths can emerge. Maybe you want to treat customers who have purchased 3 times differently than those who purchase twice?
Above all, you want to avoid sending the same emails to the same people too often because it's a bad look for your brand, but also, it's a great way to end up in the spam folder.
With all that in mind, here's an idea for a typical post purchase flow to get the ball rolling:
Email 1: Thank you message
Email 2: Important info (tips, tutorials, FAQs, etc.)
Email 3: Brand story
Email 4: Social media invitation
Email 5: Ask for a product review
3. Abandoned cart flow
Triggers: Somebody started checkout but did not complete.
Flow filters: User has not been in this flow for 10 days and has not completed an order.
Here's something: many consumers are now "abandoned cart shopping" - go figure. Our very own Kristen LaFrance relays a story where someone she knows wanted a pair of Doc Martins, so they went to every store that sells them, added them to the cart, and then abandoned the cart just to see what site offered the best discount…
I'm not really sure how to feel about that little exploit, but if anything, that's anecdotal evidence that consumers are playing the game. And the abandoned cart email could be your move to catch them off guard.
Flow pro Lexie says the question to ask yourself when creating abandoned cart emails is simple: what is the customer hesitating about?
Are they checking out all the brands comparing them?
Are they hesitant about the price?
Maybe they aren't sure it's going to work?
Can they return it if they don't like it?
If you aren't sure what the snag is, dig in with your customer service team. Pay attention to reviews. Survey your existing customers. The answers are out there, you just have to find them.
Lianna pro tip: When in doubt, fire up the social proof.
"Something I love is the one-two punch of social proof + guarantee. Since many brands do offer a 100% guarantee, this flow is a great place to start reminding customers about that. When paired with social proof, you're saying, 'okay, you're almost ready to buy… remember, here's the guarantee, you're safe, everybody else loves it, there's no risk'."
Email 1: Need any help?
Email 2: Address a common concern
Email 3: Hit them with the social proof
Email 4: Send them an offer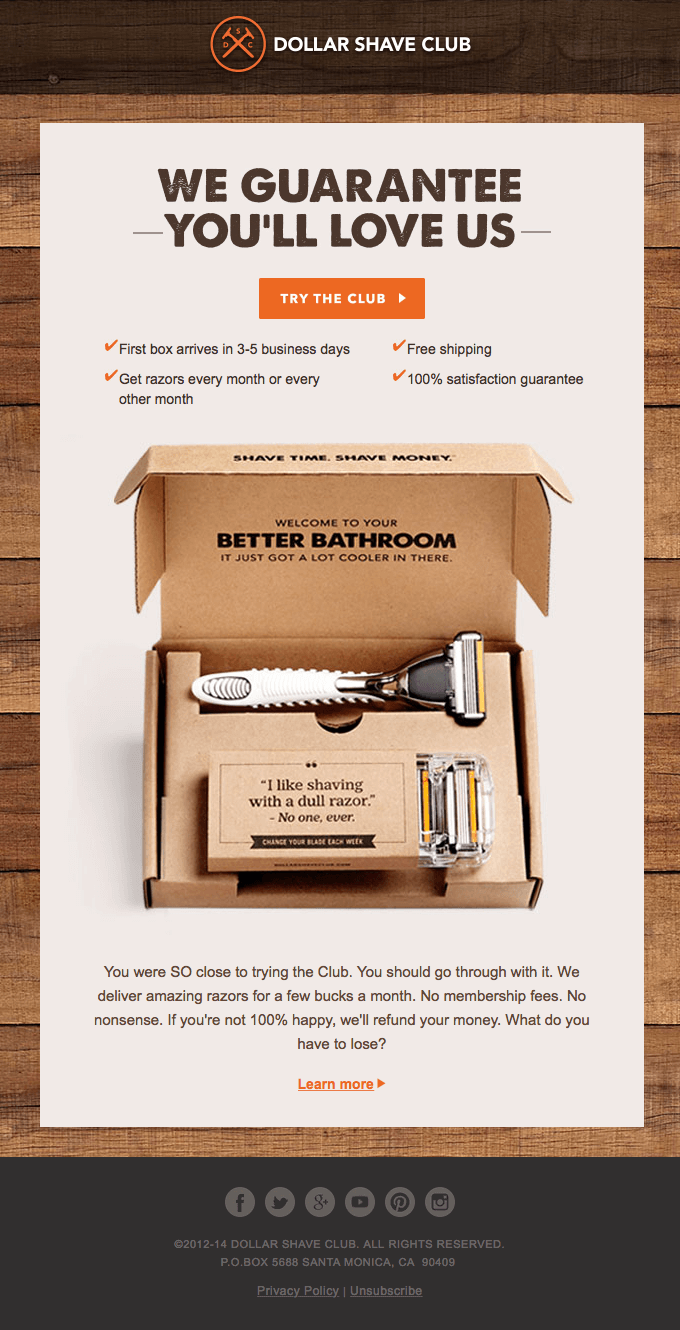 4. Cross sell flow
Triggers: Order fulfilled recently.
Flow filters: Has not ordered in the last 14 days or since starting this flow.
It may not sound like much, but the cross sell flow is your chance to create something out of nothing. It's your chance to hit customers with a pitch. There's no right or wrong way to do that, so long as it stays true to your brand.
But there is one very important feature of cross selling flows to let you know about:
Subject lines will make or break you.
The reason why is simple: these emails come completely unexpected. Unlike the other Klaviyo flows on this list, a cross sell flow kicks in when customers haven't been doing much with your brand. So you'll need to stand out if you really want to catch their attention.
As for the actual emails themselves, there are a ton of ways to execute, but here's a really easy one you can do with Klaviyo & Repeat: restock campaigns. Take a look at the examples below: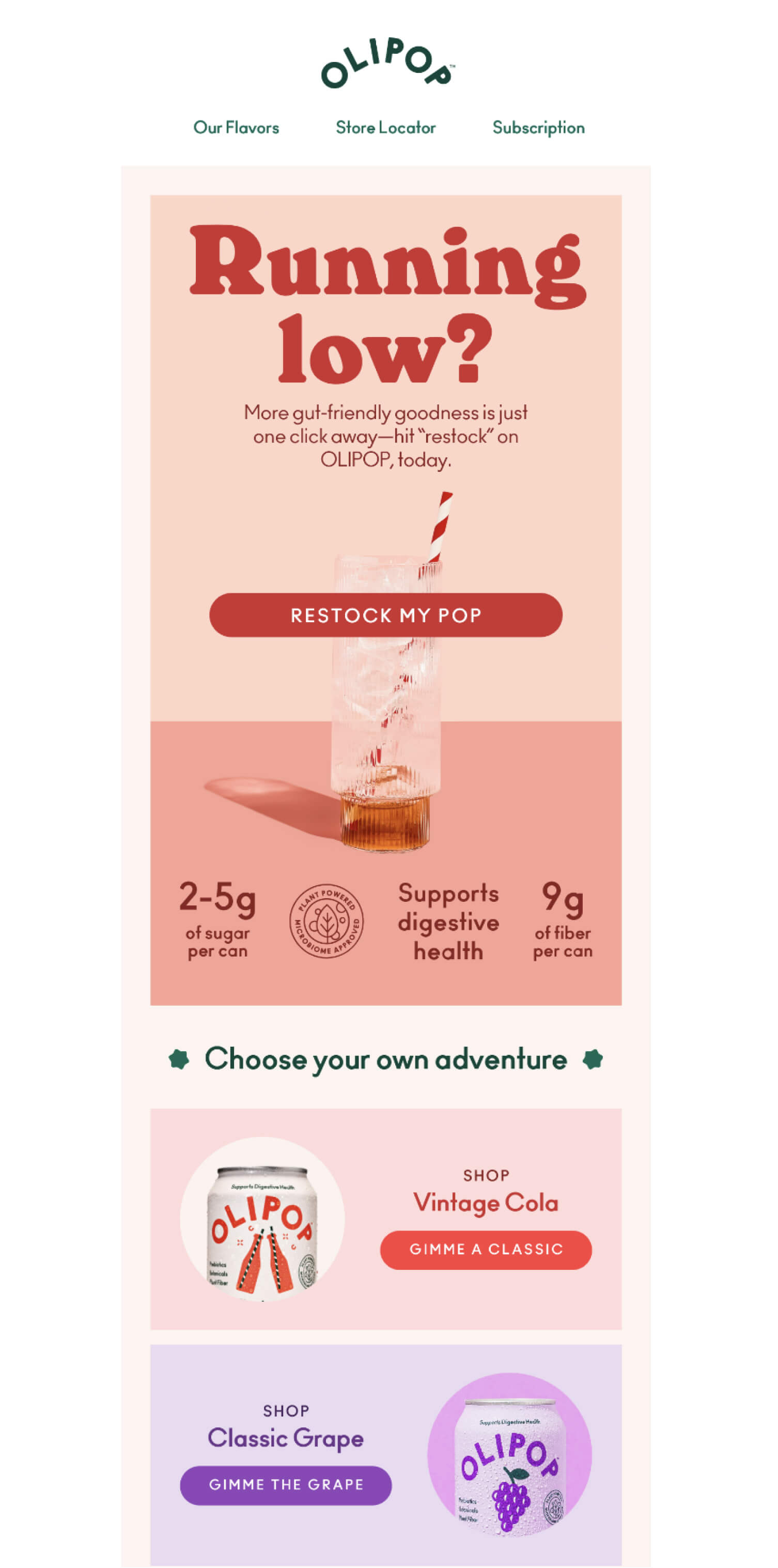 Brands like OLIPOP are triggering repeat purchases by directing customers to a personalized shopping cart that lets customers easily reorder their favorites. Repeat's software knows exactly what products each customer has committed to before and pre-loads those ones.
The result? Easy reordering for all. And it's easy for brands too - there's no need to build complex flows - just design the email, insert the Repeat CTA and it all just works.
Whatever you do with your cross sell flow, you've got a growing email list, so use it! Here's a sample flow to get you started:
Email 1: Need a refill?
Email 2: Send an offer
Email 3: Offer reminder
Email 4: Offer last chance
5. Browse abandonment flow
Triggers: Somebody (whose email you have) browsed and did not go to the checkout page.
Flow filters: User has not been in this flow for 10 days and has not completed an order.
Just when you thought you had all your abandonment emails figured out, here's the new kid on the block to keep you honest. Browse abandonment flows are exactly what they sound like. A customer browsed but did not make it to the cart page (otherwise, they'd be in the cart abandonment flow).
First, a word of caution. There's a fine line between helpful and stalking. Sometimes customers just want to browse in peace. After all, you don't buy something every time you set foot in a physical store - why would that be different online?
To a new customer, a browse abandonment email could feel like a sales agent followed you out of the store asking why you didn't buy anything. If you only just recently scored that customer email address, you could risk burning it real quick.
But for customers who have already purchased on your site, a browse abandonment flow could be a really handy tool. Think of it like a helpful agent on the sales floor just when you need them.
The browse abandonment flow is similar to its cart counterpart, but you may want to consider softening the tone a bit. Rather than addressing concerns or asking if they need help, opt for quirky promos and quick jabs. High style, low copy.
By approaching this flow lightly, if it doesn't make customers buy, at least it makes them feel good about your brand.
Email 1: Urgency - we're almost out of the items you're looking for
Email 2: Branded message
Email 3: Quirky invitation to buy
Email 4: Social proof + we'll be here when you need us
No mo Klaviyo flow FOMO 🙂
There you go - 5 new flows to make sure your Klaviyo goes. Truth be told, there are a lot more where that came from, but getting these ones done is an easy slam dunk. Set these up and you'll be well on your way to Klaviyo glory (and that 30% revenue chunk).
---
A few of the examples in this list were made possible by combining Repeat and Klaviyo. Instead of building out complicated flows and over segmenting, brands like Olipop and Aura Bora use the integration to make it easy to create personalized reorder emails.
If you're into easy setups and powerful unlocks, grab a time with us today & let's see what Repeat can do for your brand.