Repeat's personalized carts simplify your email flows, and our Brand Success team can help guide you to the optimal setup. For Kopari, it's led to twice as much revenue per session from their replenishment flow emails. Let's explore how they did it.
Who is Kopari?
Kopari is an award-winning, coconut powered beauty brand. Like many ecommerce teams, Kopari's is constantly juggling multiple priorities–email, sms, offers, merchandising, and then some. So, their team leaned on ours for help optimizing their replenishment flows.
What Repeat and Kopari Did Together
In our review, we found replenishment flows that were over-segmented. That meant that customers who might be ready to buy again were potentially being left out. We also found that we could optimize offers depending on where a customer was in their lifecycle. Repeat's Klaviyo integration and personalized carts were the answer: because the cart is personalized based on a customer's order history, there's no need to segment the flow by the product ordered.
Together, we consolidated many flows into a single optimized flow. Repeat provided a flow template, using our insights on Kopari's order history to advise on flow timing and offers, for the Kopari team to fill with their beautifully styled content.
What it Looks Like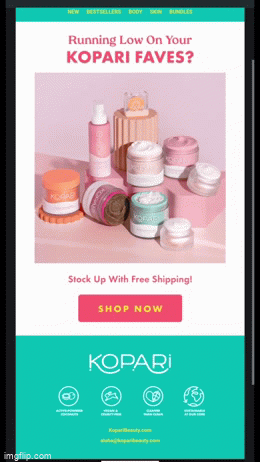 The Results
By consolidating these flows, we ensured that every customer is receiving email messaging that hits at the moment they are ready to order. Because this single flow also sees more traffic than messages that were broken out by product, we can further optimize it with tests that get to significance faster.
And the early results are looking good:
7% increase in conversion rates.
52% increase in AOV.
Combined, every session on a Repeat cart now generates 4x as much revenue.
And since split testing subject lines and content is easier now, there's plenty more room to optimize.
Want help auditing your email flows to make sure you're giving your customers an optimized and personalized experience?